Your Comfort Designed Your Way
Control your heating and cooling comfort in any room, zone or entire Northern Virginia home.
Using Mitsubishi Electric ductless systems with the latest technology, you can turn your space into an energy-efficient sanctuary year-round.


We help keep your whole family comfortable as a Mitsubishi Electric Diamond Contractor serving homes in Northern Virginia and Shenandoah Valley.

Mitsubishi Ductless systems are an adaptable solution for any living space.
No other single system in your home plays a larger role in your monthly utility bills than your HVAC system.
How does the Mitsubishi Ductless system work?
Mitsubishi Electric Zoned Comfort Solution™, also called "Mini-Splits" pump cooled or heated refrigerant directly to the wall or ceiling-mounted air-handling unit, and each unit has its own wireless electronic temperature control system, a.k.a., a remote.
Here's how the system works in a single room application:
1. The indoor unit uses refrigerant to cool or heat air and quietly pushes the chilled air it where you need it in your living space.
2. Refrigerant and electrical lines connect the outdoor unit to the indoor unit through a 3″ opening in the exterior wall.
3. The outdoor unit's state-of-the-art heat pump cools or warms refrigerant and sends it back inside to the air handler, which continuously monitors the room for changes in temperature and sends conditioned air to the areas of the room that need it.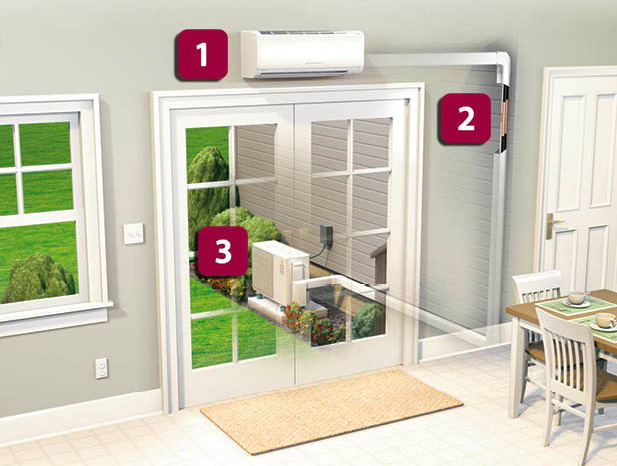 Mitsubishi Electric Zoned Comfort Solution™ provides single-zone and multi-zone systems.
Single-zone systems are perfect for additions, basements, sunrooms or any other space that offers a comfort challenge. 
Multi-zone systems keep all the rooms of a house at maximum, individualized comfort levels without all the ductwork.
See our local examples of the Mitsubishi Electric Zoned Comfort Solution™